Title: Dumplin'
Author: Julie Murphy
Genre: Contemporary Fiction, Contemporary Romance
Rating: 4/5 stars
Synopsis:
Self-proclaimed fat girl Willowdean Dickson( dubbed "Dumplin'" by her from beauty queen mom) has always been at home in her own skin. Her thoughts on having the ultimate bikini body? Put on a bikini on your body. With her all-american-beauty best friend, Ellen, by her side, things have always worked...until Will takes a job at Harpy's, the local fast-food joint. There she meets Private school Bo, a former jock. Will isn't surprised to find herself attracted to Bo. But she is surprised when he seems to like her back.
Instead of finding new heights of self-assurance in her relationship with Bo, Will starts to doubt herself. So she out to take back her confidence by doing the most horrifying thing she can imagine: entering the Miss Teen Blue Bonnet beauty pageant-along with several other unlikely candidates-to show the world that she deserves to be up there as much as any girl does. Along the way, she'll shock the hell out of Clover City-and maybe herself most of all.
Thoughts:
Julie Murphy's
Dumplin'
has all the ingredients for a picture perfect contemporary romance for the summer: a spunky plus-size heroine with a Dolly Parton obsession, a hunky love interest, and an emotional character drive plot that will drive you straight under the starry nights in Texas. Swap out Dolly Parton with Whitney Houston, Willowdean could be the book incarnate of me in book form.
This young-adult novel was the perfect summer fling with a book that a fat-girl like myself could ever want. I've never seen books for plus-size girls while growing up, and most of the time there was the stereotype that the fat girl lost a ton of weight and magically found happiness...instead of a fat girl who simply found happiness while being fat. I never tried to read any of them because I knw that happiness doesn't come down to the size of your waist. Years past and there was never a time where I thought that I would actually see someone that looked like me in a movie or let alone represented in a book.
Then came
Dumplin',
a book that was recommended to me repeatedly by fellow BookTubers and Bookstagrammers. However, there was a hesitancy that I felt towards this book. Would the author understand what it was like? Would I be disappointed with shoddy representation of a fat girl just living her life? Or would it be like on of the novels where the fat girl decides to loose a bunch of weight to get the perfect guy? Or even the fat girl simply hating herself throughout the entire novel? I really had no idea.
Dumplin
' was the perfect, most realistic expectation of being a young adult that I've seen in a while. A lot of young adult fiction perpetuates the perfection of the heroine, but people in real life have flaws and struggles. Willowdean is a flawed character who struggles just like the rest of us in the real world. I really enjoyed Willodean's perspective as a fat-girl growing up in a town that expected all the girls to look like super models. This novel provided unique in depth human relationships that felt so refreshingly realistic and heart-felt in the sense that nothing was sugar coated. There was boyfriend trouble, best-friend drama, and arguments between Willowdean and her mother that all shed light on the experiences and thoughts plus size people face in their lives.Over the course of
Dumplin'
readers do get to see the awesome confidence that Willowdean has towards her body and other fat people's bodies.
Readers looking past that confidence get to see the insecurities that cause Willowdean to be overly critically with not only herself, but with those closest to her like her best friend Ellen Dryver. I cringed at the times where Willowdean would describe another characters in a rude way. This was one of the only things I truly did not like about Willowdean's personality. I felt like it was just over the top at times because Willowdean was supposed to be the one accepting of other people's personalities-it didn't seem that way though during particular parts of the dialogue. I feel as thought I could've done without those remarks and it would have amplified the book's message, which is why I'm giving the book 4 stars instead of 5.
One of my favorite parts of the story was the relationship between Willowdean and her mother. Her pageant mom was struggling with body image just as much as Willodean, and I don't think readers really understood this. Her mother did perpetuate the toxic image that only skinny people could find happiness and that Willowdean needs to be skinny to get where she wanted in life. Only as the novel continues to see that Willowdean's mom struggles with the effort of fad diets as well viewing herself as less than worthy if she can't fit into her pageant dress. Willowdean's mom seemed to be like the inverse of who Willodean was if she'd fallen into the traps of body image over the years and struggled with the self-love it takes to just be as you are. She felt that she needed to be skinny in order to be worthy of other's attention and I felt sympathy towards her.
LET'S NOT FORGET THE ROMANCE.
IT WAS A SLOW STEADY BURNING ADORABLE BUBBLE THAT I WAS JUST GUSHING OVER OKAY? OKAY.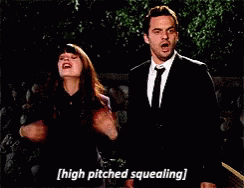 Bo freaking Larson, I am in crush mode.
I aligned with his character not only because we're both Aquariuses, but the fact that Bo Laraon was not by any means the repetitive alpha male that most young-adult writer seems to place in there novels. He was a sweet, quiet love interest that honest to god was enchanting. I officially stake claim, you guys can go home now. Let's be real here, the romantic relationship Willowdean and Bo struggled with was so stinking cute-at certain times I felt like I was going to squeal in anticipation. These two people both struggled with the realities that they were not expecting to find romance at their local fast food joint, yet here they are. They deal with the realities of their relationship in different ways that drives the plot and keeps the readers on their toes.
Julie Murphy's
Dumplin'
characters were dynamic with their varying personalities that wove together the complex plot towards the ending. The plot as a whole did not have a lot of action due to the plot being a mostly emotional/character driven story that followed the character arc of Willowdean and those around here. And I was honestly happy the book focused on the character's relationships because the book wasn't all over the place and was easy to get hooked. I cannot wait until the movie is released, until then go read
Dumplin' and Puddin'
by Julie Murphy!
Remember before the movie...